Amnon Mosek
The Headache and Facial Pain Clinic, Department of Neurology, Sourasky Medical Center, Israel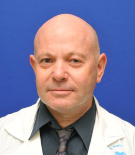 Studied medicine at Tel Aviv University [1988] and then qualified in 'Chinese Medicine' in Sri-Lanka, and dealt mainly in drug withdrawal and pain treatment. After specialization in Neurology at Tel Aviv Medical Center [1996], completed a fellowship in Neurology and Headache at the Mayo Clinic, USA [1997]. Worked at the Tel Aviv Medical Center in the Department of Neurology and Pain Clinic, and since 2002 worked as the Deputy Chief of the Department of Neurology, and later as the Deputy Chief of the Section of Neurology.
My main fields of interest are Headache Disorders and Unexplained Medical Symptoms [Somatic Disorders]. I lead a Multidisciplinary Team Work, including psychiatrists, psychologists, biofeedback, hypnosis, physical therapies, Chinese medicine, group therapy and neurology, in treating these disorders.
Current research projects that operate at the clinic include evaluation of new drugs for migraine; cannabis treatment for migraine; evaluation of long-term environmental changes of cluster Headache; assessment of machine learning in the prediction of migraine; and the use of psilocybin in the treatment of resistant psychosomatic disorder.